Economic Development Commission
The Economic Development Commission of the Regional District of Kitimat-Stikine focuses on policy affecting economic development in the region and has funds for economic development research and marketing. The Commission is comprised of the Regional Board Directors for the six electoral areas and municipalities of Stewart, Hazelton and New Hazelton.
The main objective of the Commission is to support long term economic stability and maintain the current regional economic growth that we are experiencing. In order to create stability and continue on this path of economic growth, the Economic Development Commission has set out four priorities to achieve the economic goal:
Tourism Development: Partnerships with

Northern BC Tourism Association

have led to several tourism marketing efforts employing print and digital media to promote the scenic, wilderness, recreational and cultural resources of the Northwest region.
- Hazelton Tourism: an annual contribution of $10,000 is provided to assist with operation of the Hazelton's Travel Info Centre and produce area tourism promotions. These funds are matched by the Village of Hazelton and District of New Hazelton and augmented with provincial Community Tourism opportunities (CTOP) funding.
- Highway 37 Tourism Advertising: Tourism development along Highway 37 North has been a continuing priority. The Commission was an active participant in founding the Stewart Cassiar Tourism Council and though the Tourism Council has ceased to operate, the Commission and Northern BC Tourism Association collaborate to deliver Highway 37 tourism marketing priorities identified by the Council.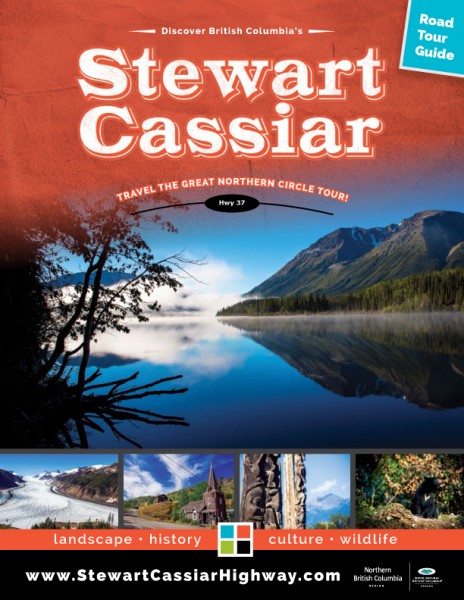 -Steelhead Paradise: In response to more restrictive angling restrictions in the Houston to Terrace area in the northwest—mostly pertaining to steelhead angling and mostly affecting non-guided foreign tourists—the Northern BC Tourism Association coordinated a promotional campaign to demonstrate to potential visitors alternative fishing opportunities and activities to pursue when rivers are closed. Funding allocated to this campaign has been augmented with provincial Community Tourism Opportunities Program (CTOP) funding. In 2014, $2,200 was contributed to the Steelhead Paradise project (on behalf of the Hazelton region) and doubled via CTOP.
Business Retention and Expansion: In an effort to recognize and promote locally owned, non-franchise businesses within the Regional District, the Commission has supported an effort by the

Northern Development Initiative Trust

to spread several programs. These programs will help drive more local business activity and generate new jobs and income for the region.
- Small Town Love: a shop local campaign which showcases independent business owners and their products to optimize on-line presence, and keep money in the local economy. Small Town Love campaigns are being developed in the Terrace area and the Hazeltons.
- Supply Chain Connector: a user-friendly database to track down and engage locally qualified supply and service companies. With billions of dollars of proposed projects in the northwest region of the province and a mandate to hire local contractors, project proponents are finding contractors on the database to help them build the industrial projects.
Industry Attraction:In order to promote responsible industrial development and market our region to potential investors, the Economic Development Commission has dedicated funds to work on a variety of projects.
- Wood Industry Attraction: For several years the Commission has focused on diversification potential in the woods sector, including bioenergy production. The Economic Development Commission has allocated $25,000 in its 2015 budget to allow some flexibility to support projects that might come forward during the year.
- Invest Northwest: Late in 2011, the Northern Development launched the Invest Northwest website. The website and complementary printed materials draw attention to development potential in the northwest, highlights major industrial and resource development projects in the region and presents community profiles and economic development priorities. The Commission has contributed $2,500 towards this project to help cover the costs of site maintenance and marketing.
-Investment Opportunity Brochures: Municipalities and business owners are able to market their opportunities through the development of comprehensive marketing brochures that profile investment opportunities. Industrial site development, vacant land, and airport expansion projects are examples of eligible projects that would qualify to have an Investment Brochure for their investment opportunity.
Investment Opportunity: Bear River Gravel Project
Regional Economic Development Support: Several communities located in the Regional District boundaries lack the capacity to engage in economic development activities on a regular basis. The Economic Development Commission has fulltime staff dedicated to helping communities manage economic development needs.
- Grant Research and Writing : Municipalities, nonprofits, First Nations groups, and other community organizations located in our region rely on securing funding from a variety of sources to fund projects in their community. The Economic Development Commission will provide grant research and writing support to municipalities and organizations that are in need of assistance.
Infographics: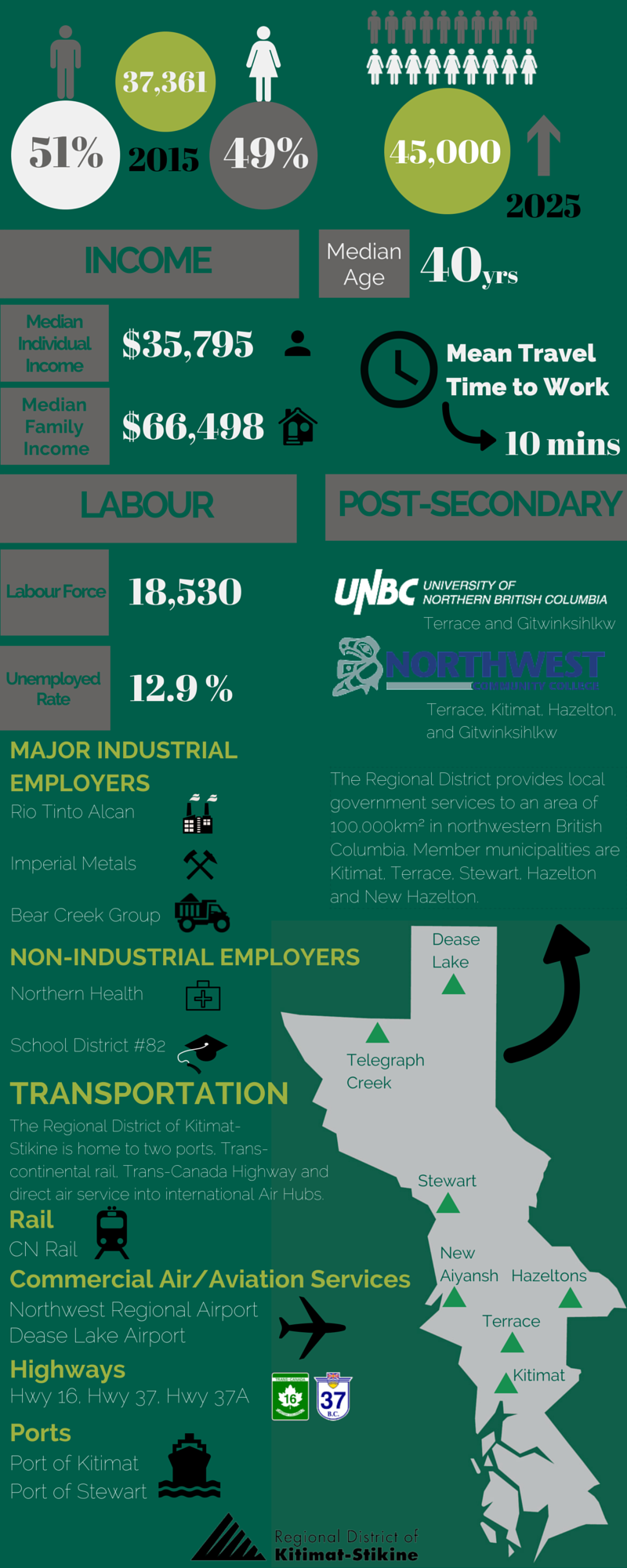 Relocation Guidebooks
The relocation guides for communities in the Regional District of Kitimat Stikine were developed as a resource for attracting people to the area including healthcare and education professionals. The new series of guidebooks will have in depth information for potential newcomers to make a smooth transition into one of our communities. With different sections on services and amenities, top 5 things to do, transportation, and a list of community contacts, newcomers and people interested in the area will be able learn more about the community specific information in this new series of Guidebooks to communities in the Kitimat-Stikine Region.
Follow the Economic Development Commission on our social media pages.